Eye on the Prize
Have you ever spotted a shirt in a movie, on the streets or in a magazine and said, "I need that!" Well, I know I have so many times it is hard to count. But let me share with you my most recent encounter and how I stumbled upon a new favorite brand, Madcap.

The Backstory
I spotted the newest GQ on newsstands with Steph Curry and being an avid basketball fan, I had to pick it up. I usually dive right in, but I couldn't keep my eyes off the cover. He was sporting a navy blue suit and instead of your traditional button up shirt and tie, he had a polo shirt. But not your dad's polo shirt, this looked more like your grandfathers. It was a bright yellow knitted sweater like polo shirt.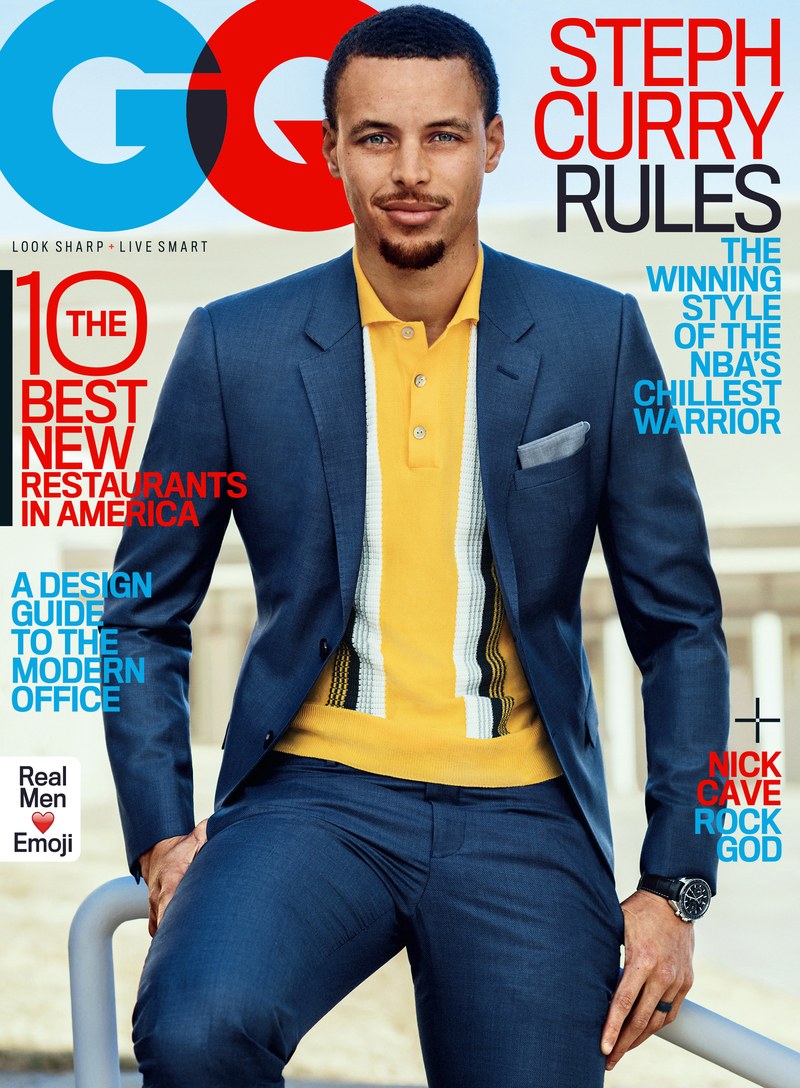 I fell in love instantly and started the hunt for this shirt. The one pictured above was of course already sold out by David Hart NYC, so it was off to the Interwebs. For months, I searched and could not find any brands that made this style of shirt. As my birthday approached last July, my wife unbeknownst to me was also on a hunt for this shirt. Probably because I wouldn't stop talking about it. Her search took her over the Atlantic Ocean to the United Kingdom, not literally of course, but thanks to the web she discovered a gem. Madcap England had exactly what she was and ultimately I was looking for. She purchased the Aftermath Retro Mod 1960's Stripe Knitted Polo seen below. As of this writing, they only have one in stock, but they have plenty of other colors in this style. I was immediately hooked when I received this from my wife for my birthday. An instant classic in my wardrobe.
My Birthday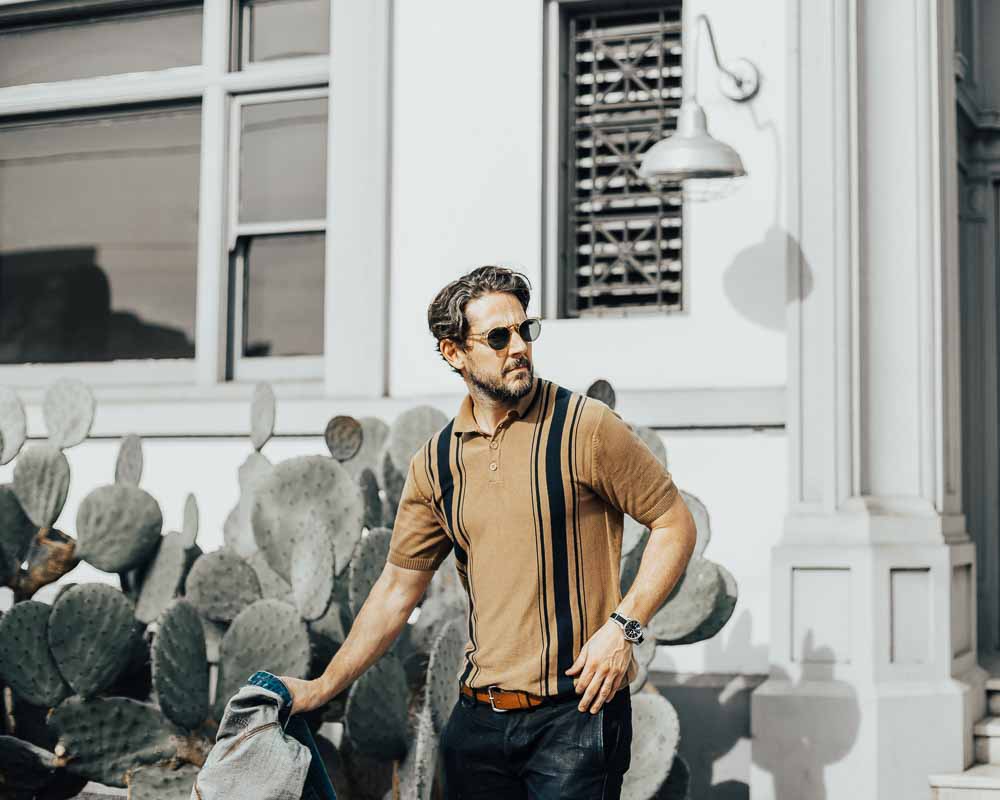 After sporting the above piece all summer and around downtown, click the link above, I wanted to know more about this brand. They focus on a range of retro and mod inspired clothing for men and women. Madcap draws its inspiration from 50's, 60's and 70's music. The music scene in England was exploding during this time with of course the birth of The Beatles. The brand looks to combine fashion and music to create a line of goods that nod to classic styles from these three decades and adding a twist of modern trends. I continued to discover more of their pieces that fit right into my style. One such piece below is the Marriott Suede KnitPolo Cardigan. The vibrant gold mixed with white and black blocking make this sweater a standout piece no matter how you style it. Casual SoCal vibes with white denim work great as well as a pair of dark trousers.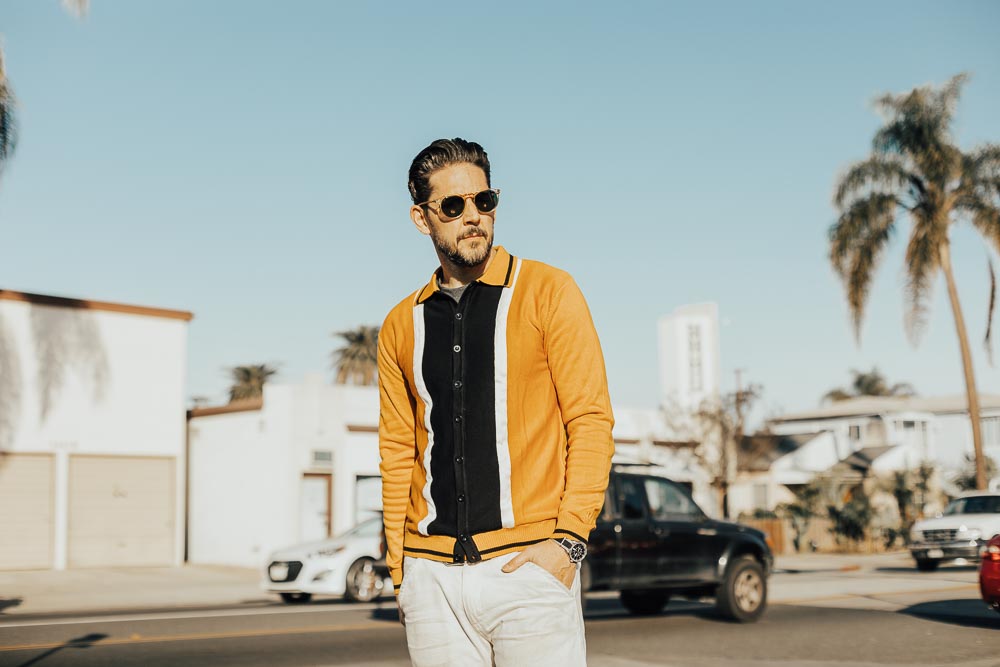 The next two pieces are nods to the 70's era, starting with this disco styled Floral Soul Music Hawaiian shirt, sure to make a statement at any party you attend. Instead of all out casual with this look, I went high fashion trousers, (these were actually my Suitsupply tuxedo pants from my wedding last July.) Again this shirt can also by styled casual or dressed up, but my suggestion is to make an impression at your next event and style this shirt with your best pair of dress pants.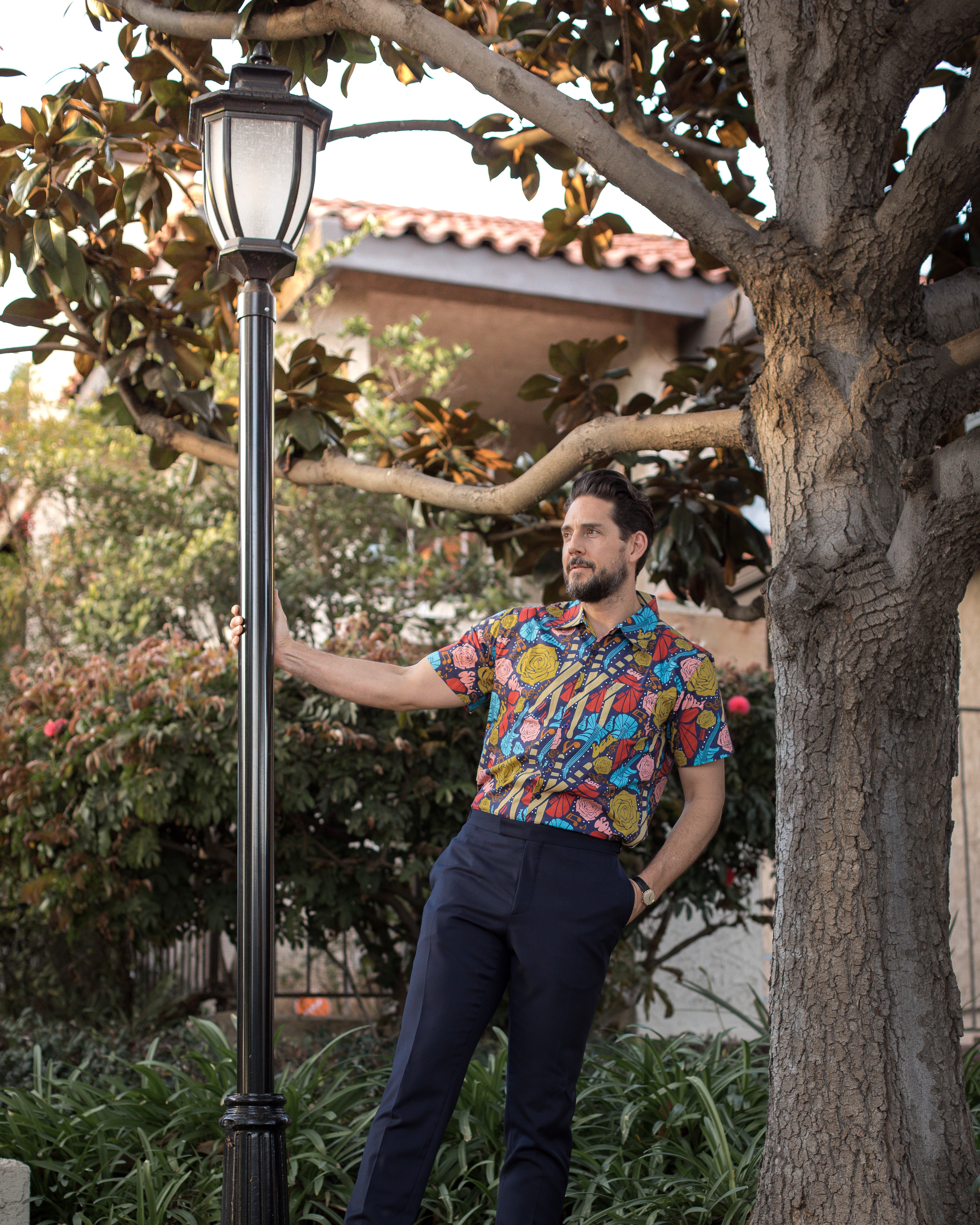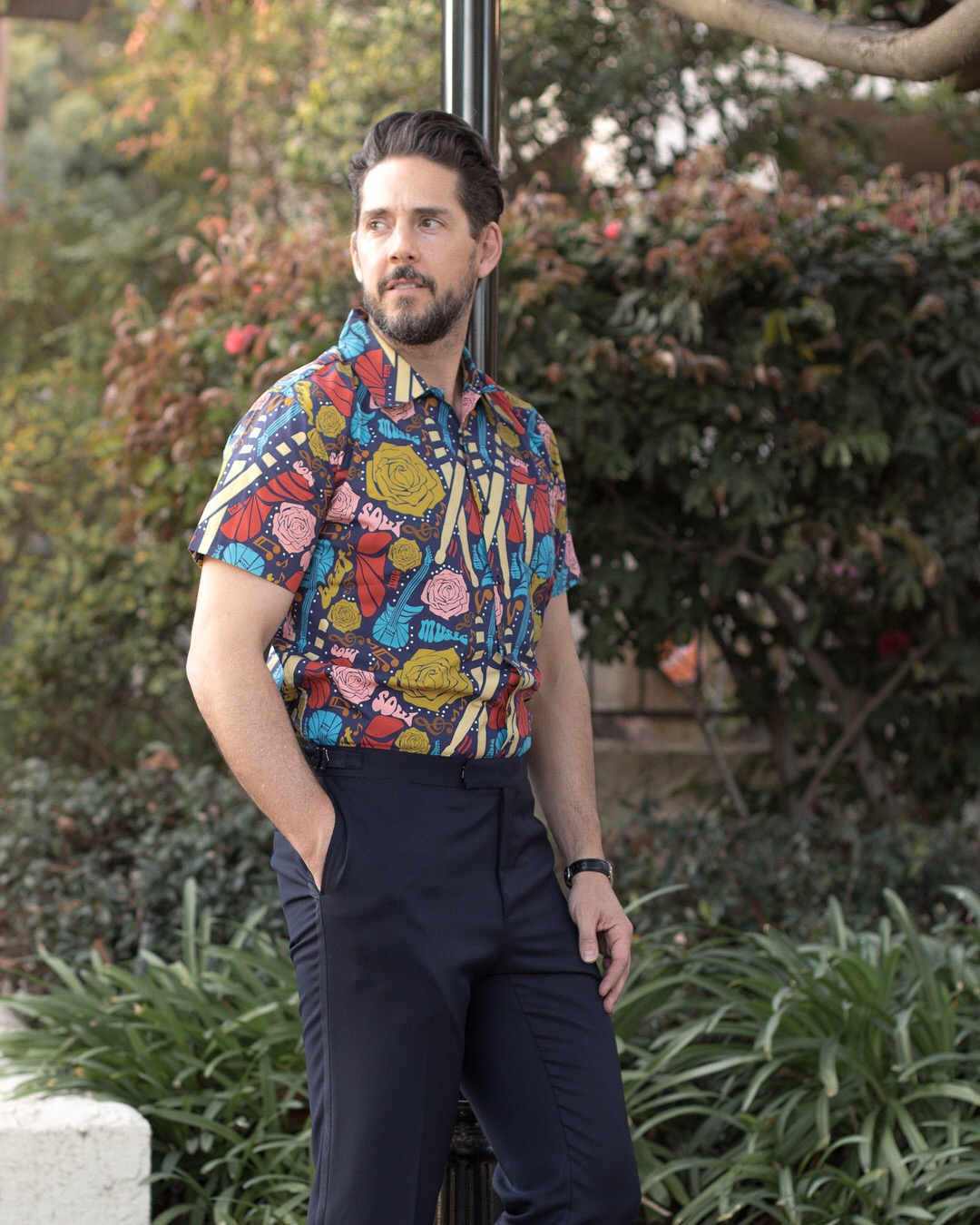 My last piece brought me back to my Colorado roots on the winter slopes. Although this style jacket was before my team, I am pretty sure growing up, my dad had a coat just like this from his late 70's days on the mountain. The Retro 70's Rainbow Stripe Ski Jacket looks great in the California sun, but I can't wait to take this to the mountains. If you are looking to throw it back and look good while skiing, this jacket with the it's sherpa lining is a must have. This is just the tip of the iceberg for some the fashionable pieces thus company is putting out on a regular basis. To see more, you can check them out on their site, Madcap England and also their parent company Atom Retro.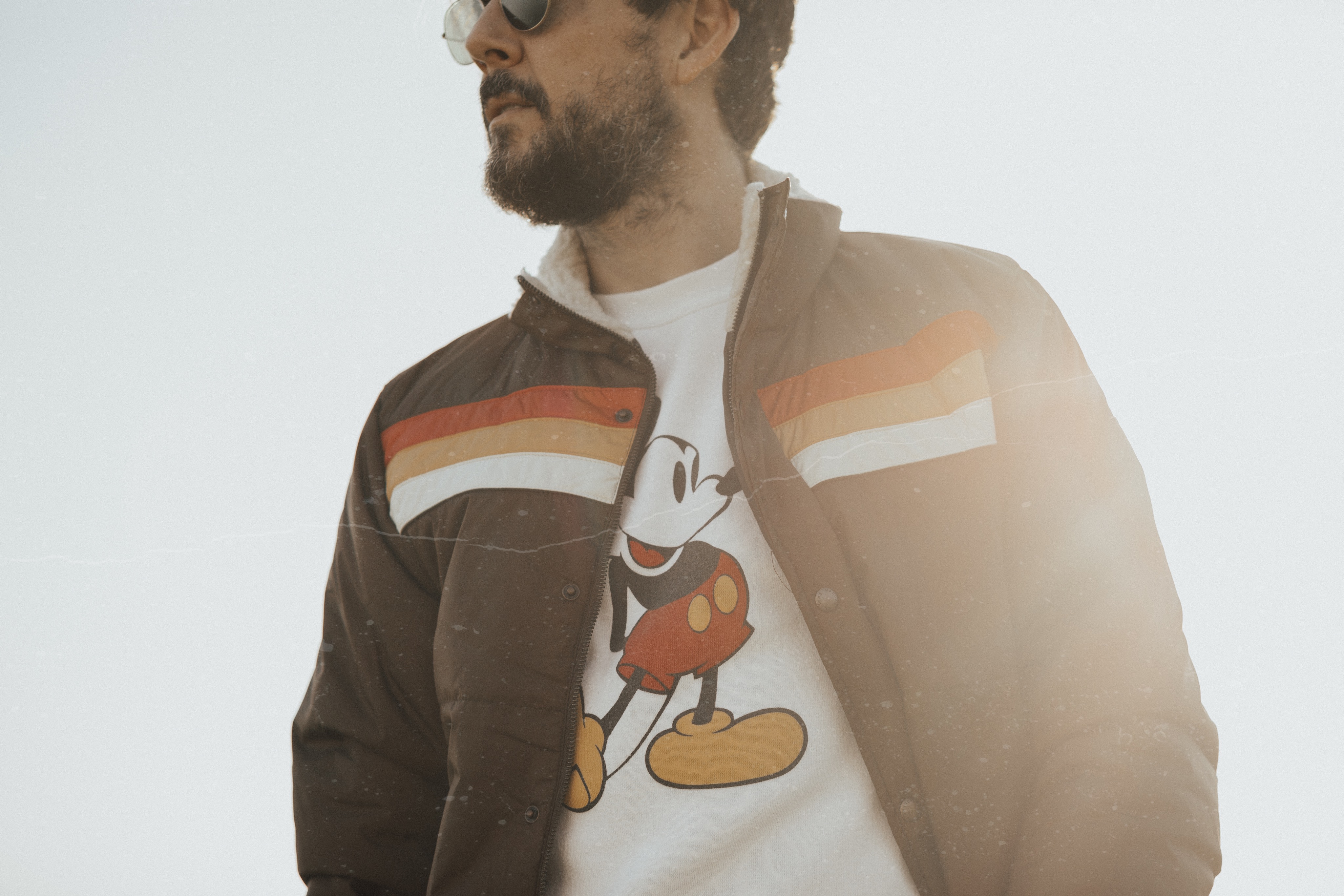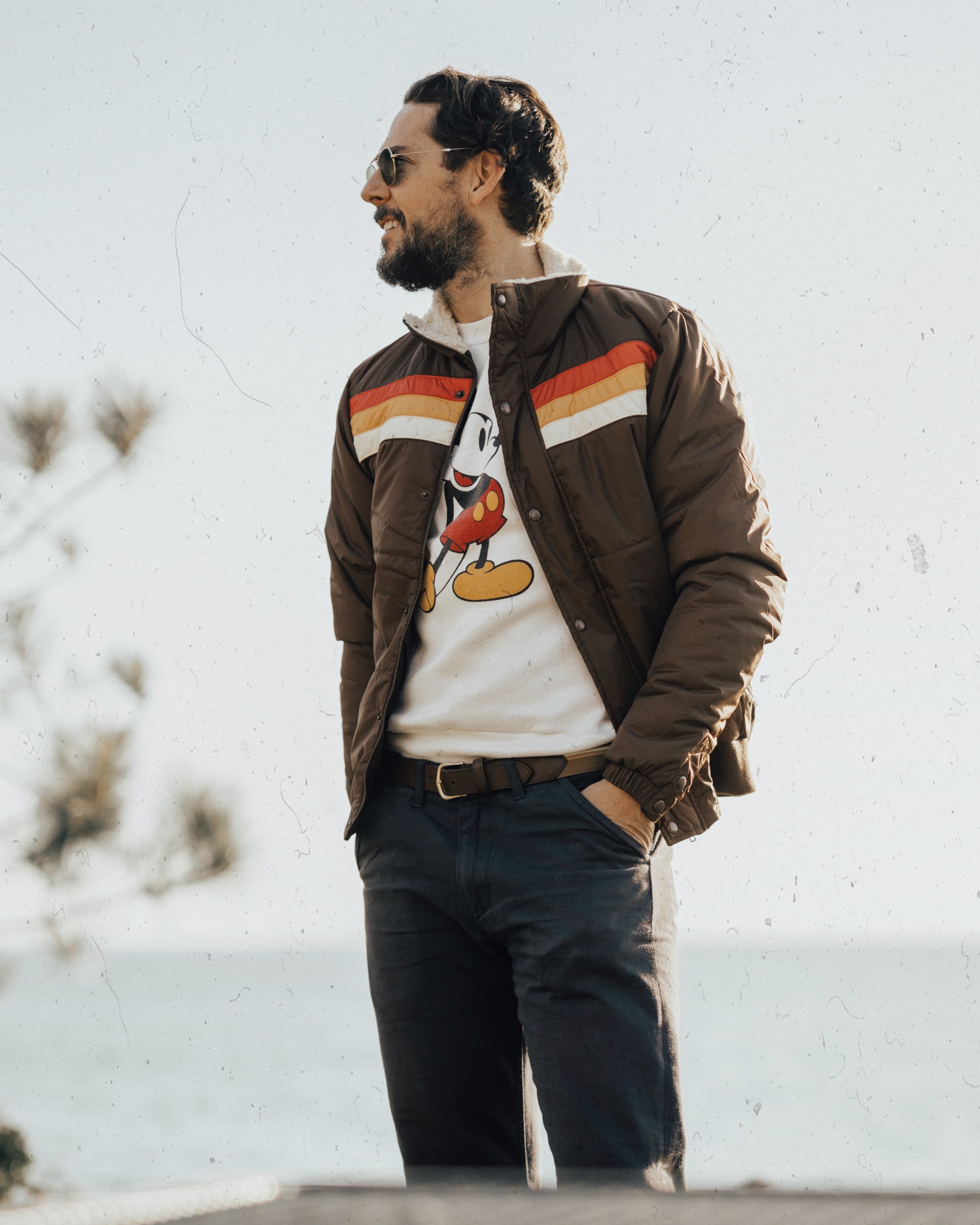 In the words of John Lennon, "You don't need anybody to tell you who you are or what you are. You are what you are!"
Best,
Devin – Outlined Cloth
SHOP THE LOOK
[tchsp id="2″]
SaveSave
SaveSave
SaveSave
SaveSave
SaveSave
SaveSave
SaveSave
SaveSave
SaveSave
SaveSave
SaveSave
SaveSaveSaveSave
SaveSave
SaveSave
SaveSave
SaveSaveSaveSave
SaveSave
SaveSave
SaveSave
SaveSave
SaveSave
SaveSave
SaveSave